Thursday, June 12
---
Yesterday, just as I was getting ready to leave for the garage I got a call from a colleague and ended up having to spend the day at school.
Back to work today! On Wednesday I worked out an estimate of 2256 pounds for the car's weight. I'm guessing that my scale is accurate to within a pound or two, so the error bars on that estimate are probably pretty good --- plus or minus 24 pounds. The first thing I wanted to do today was check the GVWR, because the Connecticut DMV will not approve a car that has been modified to exceed its GVWR.
As the following picture shows, it's 2835 pounds. So I have 579 pounds to work with. Well, I also expect to remove about 400 pounds worth of ICE (Internal Combustion Engine) stuff, so I actually have 979 pounds to work with.
The next order of business for the day was to start on nickel plating. There will be some copper lugs on the ends of 00 gauge welding cable in the battery boxes and I am concerned about corrosion, so they need to be nickel plated. I've also decided to use more battery cells than I'd originally planned for. I was able to purchase nickel-plated copper cell interconnects from John Lussmeyer but that was when I was planning on 150 cells and now I'm hoping to squeeze 200 cells into the miata. John is out, so I have to manufacture 50 more of the cell interconnects and they really ought to be plated in nickel -- potassium hydroxide (KOH) occasionally will vent out of the cells and then things get ugly corrosion-wise.
I got this DIY nickel plating kit from a company called Caswell. Pulled everything out of the box, and it matches the manifest. The scary-looking green crystals are a nickel-containing salt. The white powder is a degreaser (i.e. really strong soap). There's also a small bottle of something called "nickel brightener" a couple of cartridge heaters and a thermostatic controller for them, an agitator pump, the anode material (nickel) which has a gauze bandage that it needs to be wrapped in, and two platic buckets.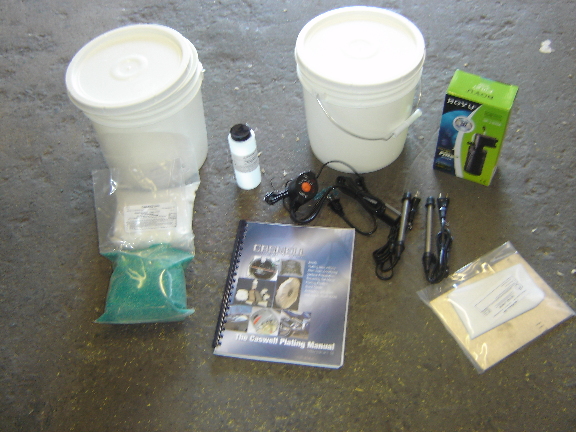 Oh, and one other thing! The "Caswell Plating Manual, Version 9". I spent the next 2 1/2 hours reading.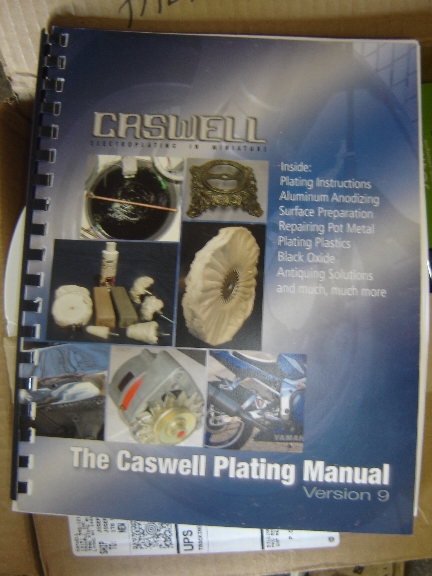 As it turns out, I have a rare psychological condition... an unreasoned aversion to caustic solutions of heavy metals that are being energized into unusual oxidation states by the application of electrical energy. This condition is so new and rare that it is currently unnamed (although I have suggestions, they are not suitable for a PG weblog). Additionally, I need to get a constant current power supply which is also sold by Caswell, but for some reason that I'm sure will become clear to me later when I consider their profit margins, is not included in the kit I just bought.
So, this is me moving on to something else...
Here is an image of a BB600 ni-cad battery cell. The ones I've bought from Bob Rice all look pretty much like this one. The labels claim the cells were manufactured in September of 2001 and they became surplus in September of 2004.
The cells that are visible in the background (not in plastic wrapping) were part of my first experiment with testing the capacity of these guys. I put together a 12 volt pack and charged it for just a few minutes with an automotive-style charger then discharged them through a light bulb. The point of this clumsy experiment was to prove to myself that the cells weren't completely dead because I was (at the time) contemplating asking Bob to sell me some more. They performed as expected, and I did in fact get another batch from Bob.
A major downer, and a stupid mistake on my part, was that I used cheap zinc plated hardware for the above experiment. I left the battery hooked up to the lightbulb even after it was completely discharged because ni-cad cells are better off stored in a fully discharged state (in the picture above, you can see the spring that is shorting-out the stored cell's terminals). When I came back to my setup after a week, some of the zinc hardware had gotten all burnt looking and eaten away. These cell interconnects were all originally beautiful and shiny and now they have some kind of zincy crud all over them. The toothbrush is not doing the trick...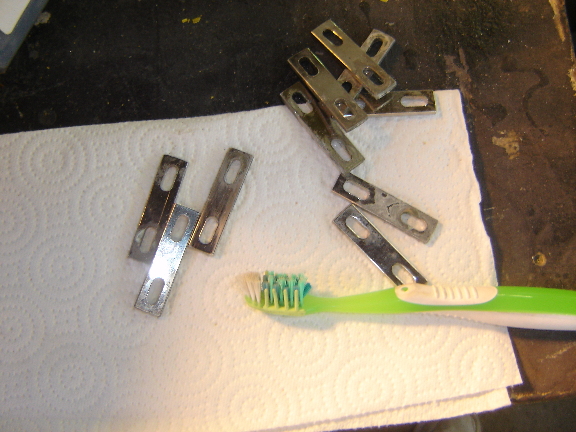 This is what the interconnects looked like new from John.
Here's a closeup of the top of a cell fresh out of its plastic wrapper. This cell looks a lot nicer than some of the others I've unwrapped. There's still a light residue of petroleum jelly on the terminals which seems to have saved them from too much corrosion. Also visible in this pic (in the lower right corner) is the imprint 0901 which tends to corroborate the date printed on the outside of the plastic.
This photo follows quite a bit of wiping, dabbing, toothbrushing, and the like -- all done while wearing rubber gloves since KOH is really caustic.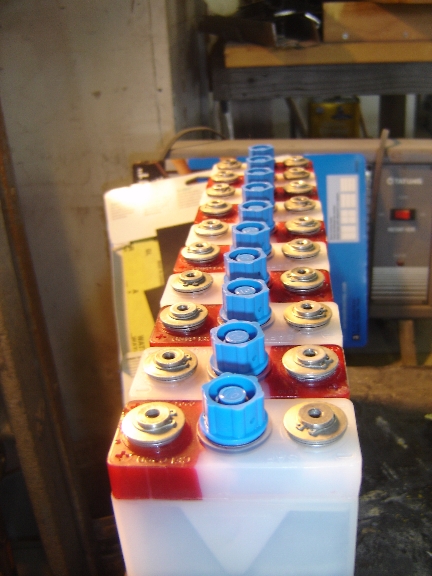 Don't they look pretty?
Pretty on the outside, but a lot of crud got down into the threaded holes on the terminals, so I ran a tap down into each hole to clean them out.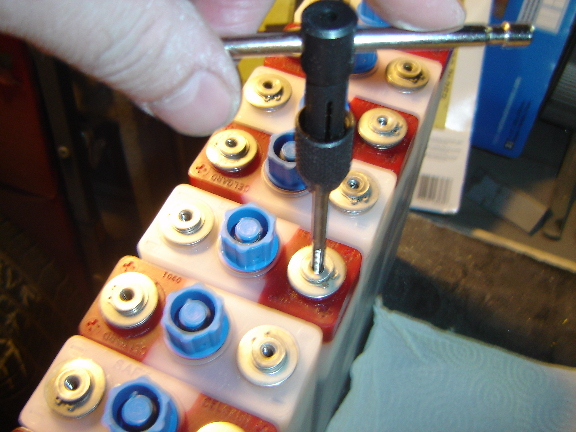 Meanwhile my ride had arrived.